Taman Koperasi CUEPACS Cheras
The 7 1/2 mile project at the fringe of Kuala Lumpur and Selangor, road to south, was the prime attraction of the Koperasi's entry into housing activity. The housing was already its prime objective when the Koperasi was launched. A 27 acres purchase was first initiated followed by housing designs all which were thoroughly discussed with purchasers. 3 types were decided that is single terrace single and double and semi-detached. All in 694 units were built and delivered. It was the best housing ever for purchasers because, each purchaser put his views as to his housing needs. In the end compromises were made and delivered. The society had to provide every service that was demanded by the member purchasers. The extended service was reaching out to EPF and treasury to get the cooperation necessary to convenience the financing arrangements. The Koperasi also provided land for school, community playground and surau. The particular housing drew most attention because it was seen as an extension from government quarters at 2nd mile Cheras to house ownership further down on the same road.
Taman Koperasi CUEPACS Segambut
This the first project in Kuala Lumpur was the Segambut project in a 12 hectare site. The lots were more widely mixed to consist 66 one storey terrace houses, 54 double storey terrace houses, 30 semi-detached houses, 18 bungalows and 8 shop houses. All were sold to members. The land originally was an old coffee plantation which was rocky and uneven. Koperasi being one of the earliest developer in that corner, had to overcome untold problems which it did. It was freehold land but on Hobson choice given by the DBKL and facing members' pressure for immediate delivery, the land was converted into least hold and delivered with housing design variance according to conferred decisions made by the members. It is Koperasi's signature development in Kuala Lumpur.
Taman in Labu Jaya
This scheme consists of 58 units of single storey terrace houses, 14 units of single storey semi-detached houses. The project ventured as a response to civil servants requests to have a housing in the town centre. It is one km from the Seremban Railway and central bus stations. It is also close to the KL - Johor Bharu Plus highway.
Taman Koperasi CUEPACS Batu 12
The single largest and ambitious project undertaken by Koperasi CUEPACS. It has 1520 units of low costs houses, medium and semi-detached double storey houses. Four walk-up apartments of 212 units with 18 shop houses. Land was made available for mosque and a temple. There is still remaining land for a small project which is currently under review.
New Taman in Ikan Mas
10 subdivided lots were bought in 2016 for future development. Applications have been made for amalgamation and subdivision into 25 lots. The aim is to build one bangalow and 23 terrace houses. Documents have been submitted for planning Approval.
CUEPACS Apartments Brickfields & Taman Jayamas, Seremban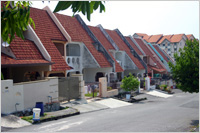 Koperasi CUEPACS though investment in its sister company, held majority shares. The company ventured into development. 102 studio apartments were built in Brickfields.

In Seremban, a housing project was launched and known as Taman Jayamas, to build low costs and medium terrace houses to be sold by Koperasi CUEPACS. Koperasi mostly took-up low cost houses and sold them direct to members.